Abu Dhabi Airport Launches Biometric Identity Services for Passengers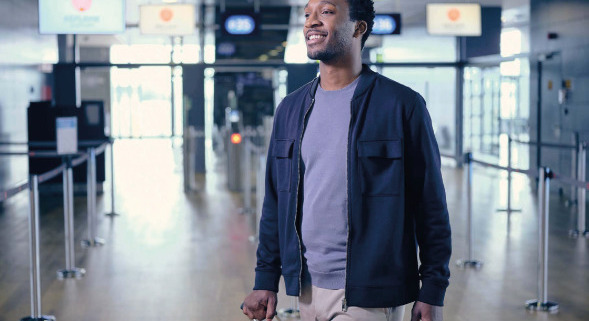 The Abu Dhabi International Airport (AUH) has announced the launch of biometric identity services for departing and arriving passengers. Using this innovative technology, passengers will be able to use their face as a means of identification to access airport services, including check-in, baggage drop-off, and boarding.
Improved Travel Experience and Enhanced Security Measures
According to Ali Majed Al Mansoori, CEO of the United Arab Emirates' General Civil Aviation Authority (UAE), this initiative aims to improve the travel experience for passengers while also enhancing airport security. "We are excited to deploy this cutting-edge technology which will offer travelers a seamless and hassle-free travel experience, while also reinforcing our commitment to security," he said.
Biometric Data Capturing and Secure Storage
AUH's biometric identity system works by capturing biometric data such as fingerprints, facial recognition, and iris analysis. This data is then compared to that stored in the airport's database to verify the identity of passengers.
Electronic Boarding Passes and Mobile Phones Also Accepted
Passengers will also be able to use their mobile phones or electronic boarding passes to access airport services using facial recognition technology. This innovation will allow passengers to spend less time completing administrative formalities and waiting in lines, making their journey more pleasant and efficient.
Abu Dhabi Airport is also committed to protecting the privacy of passengers by ensuring that all collected biometric data is stored securely and is only shared with relevant authorities.
The launch of these biometric services is part of Abu Dhabi Airport's ongoing efforts to improve the travel experience of its passengers. In 2018, the airport introduced an air traffic management system that uses artificial intelligence to optimize the use of airspace, reduce delays, and improve fuel efficiency.
https://www.biotime-biometrics.com/wp-content/uploads/2023/01/Article-70.jpg
427
589
Biotime Biometrics
/wp-content/uploads/2023/01/Logo-BB-23.png
Biotime Biometrics
2023-01-25 05:44:48
2023-01-23 18:46:08
Abu Dhabi Airport Launches Biometric Identity Services for Passengers