Biometric sensors for desktop enrolment and software applications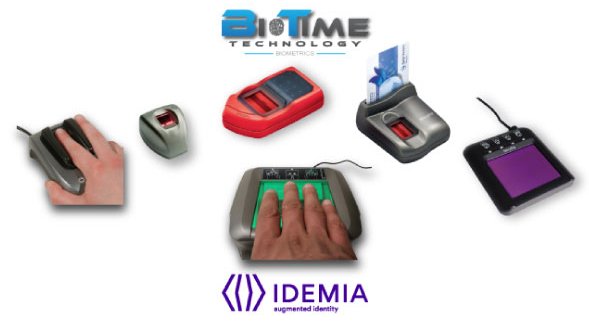 Usually, the authentication of a person involves a password, a PIN code or a smart key. The big downside to this type of authentication is that it can be very easily forgotten, duplicated, or stolen. Therefore, using biometrics is one of the best ways to reliably authenticate a person because biological characteristics cannot be duplicated or forgotten.
You will understand, biometrics is a method of recognizing or verifying the identity of a person based on physical or behavioral characteristics.
The assets of biometrics sensors
There are several types of biometric sensors, among which we have fingerprint sensors. These are the most commonly used for authentication. At Biotime Biometrics, we provide you with several sensors using hand recognition. They are able to measure the length, thickness and area of ​​the entire hand or fingers.
Our biometrics sensors are very useful for a secure desktop enrolment or the development or your own software applications.
IDEMIA biometric sensors for high quality products
IDEMIA sensors are able to provide fast and reliable fingerprinting. They can be used as an enrolment station (USB socket) or as an interface for your own applications. Their ergonomic design allow them to be quickly integrated into all structures. They adapt to your needs. Our sensors are FBI certified and can be used with 3rd part software such as MorphoManager. For example, the Morphosmart 1350 is a high quality device whose main function is authentication by correspondence (with an identity card). It allows the authentication of registrations and user identification.
Biometrics in the air of digital is the solution for better security of people and goods.
If you want more information about our biometric sensors, contact us!
https://www.biotime-biometrics.com/wp-content/uploads/2020/08/10.jpg
427
589
Biotime Biometrics
/wp-content/uploads/2023/01/Logo-BB-23.png
Biotime Biometrics
2020-08-24 12:27:41
2020-08-24 12:27:41
Biometric sensors for desktop enrolment and software applications