Our high-tech biometric readers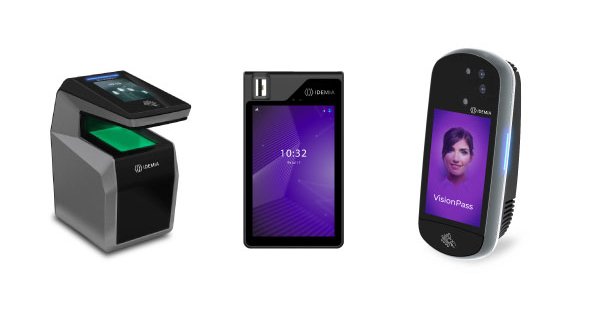 Today, we present to you 3 flagship products of IDEMIA, the biometric readers: Vision Pass, MorphoWave and the very latest mobile device, ID Screen.
These biometric readers revolutionize access control
If you did not know them yet, these 3 readers are the latest products from the world leader IDEMIA in terms of biometrics. Let's take a quick tour of each of them:
ID Screen: Your new biometric tablet
ID Screen tablet is the brand new product released in June 2020. It's a multi-application biometric tablet with an improved design that gives much more versatility to governments and businesses. As a result, thanks to its powerful algorithm, it allows several use cases ranging from citizen registration, access control through identity verification and attendance time.
VisionPass: The masterpiece of facial recognition
We no longer present it to you! VisionPass has proven itself in providing fluid and contactless access control. It is able to identify a face instantly, even on the move, thanks to artificial intelligence, powerful algorithms and a successful combination of 2D and 3D cameras. With VisionPass, rest assured, it is robust and resists all types of attacks and identity theft attempts. This year, it has won the SIA award for best new biometric product.
Morphowave Compact: your contactless biometric reader combining simplicity and security
Morphowave is a reader which is very suitable for places with high traffic. Called the reader on the fly because it only takes a wave of the hand to be identified, it's equipped with a contactless 3D fingerprint technology and has many other features: Protection index IP 65, multi-factor biometric authentication, badges, PIN …
If you want to know more about these 3 biometric readers, we're at your disposal. Contact us through our contact form !
https://www.biotime-biometrics.com/wp-content/uploads/2020/07/09.jpg
427
589
Biotime Biometrics
/wp-content/uploads/2023/01/Logo-BB-23.png
Biotime Biometrics
2020-07-27 16:12:45
2020-07-27 18:44:17
Our high-tech biometric readers