MorphoWave™ SP by IDEMIA: The Gold Standard in Biometric Access Solutions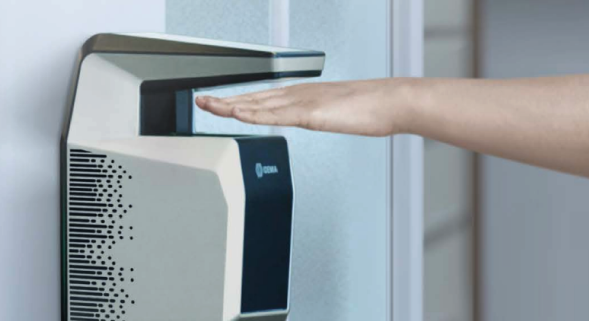 In a technologically advancing landscape, securing premises has been seamlessly redefined by IDEMIA's MorphoWave™ SP, a touchstone in biometric recognition solutions. Let us journey through the intricate facets of this established powerhouse in the biometrics industry, and witness how it elevates modern security solutions to unparalleled heights.
IDEMIA's MorphoWave™ SP: The Undisputed Leader in Biometric Readers
Standing as a testament to IDEMIA's commitment to excellence in the biometrics sector, MorphoWave™ SP is not a new player in the market; it has continuously set standards in biometric readers technology. Housing a powerhouse CPU, the NXP AMR Cortex A53 Quad-core processor clocked at 1.8 GHz, it promises performance that is both robust and swift.
What garners more attention is its nonpareil contactless feature integrated into its functioning, allowing for rapid and seamless access controls, making it a leader in contactless applications today. Its capacity to store extensive data, including a notable 250,000 IDs in the authorized user list, manifests its readiness to serve large enterprises efficiently.
A core feature that remains its USP is the touchless fingerprint sensor integrated with QR code scanning capability, offering a multi-faceted approach to secure access, ensuring both convenience and security in a single package.
Delving Deep: The Technical Mastery of MorphoWave™ SP
MorphoWave™ SP promises unmatched reliability with its resilient operating conditions. Functioning seamlessly in temperatures ranging from -10°C to 55°C and non-condensing humidity levels between 10% and 80%, it stands tall in diverse environments.
Taking a step further, IDEMIA guarantees a product that complies with numerous essential regulations, maintaining its status as a device that meets CE, CB, FCC standards, and more, emphasizing its adherence to safety and ecological commitments.
Moreover, it offers a broad spectrum of network and communication protocols, including Ethernet and the coveted WI-FI option, showcasing a flexibility that allows for easy integration in various infrastructural settings. Not forgetting its expansive storage capabilities, it comfortably houses up to 1 million transaction logs, thereby offering extensive data management solutions, portraying it as the epitome of trust and reliability in biometric technology.
MorphoWave™ SP: A Torchbearer in the Realm of Contactless Applications
While paving the way for futuristic security solutions, MorphoWave™ SP has integrated seamlessly with over 25 of the industry's leading access control systems, positioning it as a linchpin in fostering frictionless access environments.
But the journey doesn't stop here. With its contactless reader options ranging from Prox to SEOS, and HID Prox mobile access, it assures a heightened level of security while offering the undeniable convenience that comes with contactless applications, promising a user experience that is both secure and frictionless.
In the rapidly evolving landscape of biometrics, MorphoWave™ SP stands resilient, a constant companion in the journey towards a secure yet uncomplicated future, amalgamating trust with unprecedented convenience.
https://www.biotime-biometrics.com/wp-content/uploads/2023/10/Article-87.png
427
589
Biotime Biometrics
/wp-content/uploads/2023/01/Logo-BB-23.png
Biotime Biometrics
2023-10-09 05:38:41
2023-10-04 11:40:11
MorphoWave™ SP by IDEMIA: The Gold Standard in Biometric Access Solutions