Product Zoom : our MorphoSmart 1350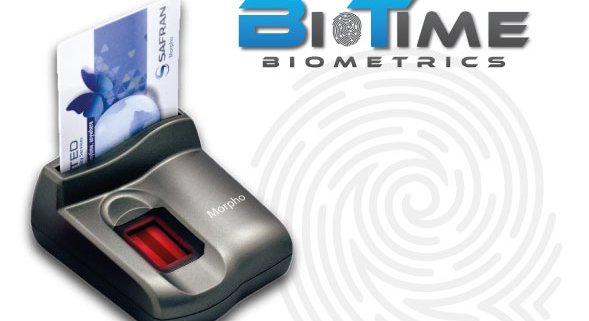 Our MorphoSmart 1350 (or MSO 1350) is a USB smartcard and fingerprint device. It's used for highly secure desktop application. It's a small device with a location for one finger and a location for a card. It belongs to the MorphoSmart family, a very powerful range of fingerprint sensors. Compared to the other MorphoSmart devices, this one is also embedded with match-on-card authentication.
MSO 1350: powerful fingerprint sensor
Our MSO 1350 is a fingerprint sensor used for enrolment, authentication and user identification, based on fingerprint technology but also embedded with match-on-card authentication (to be used with Emirates ID card for instance).
This fingerprint sensor uses optical technology and has a large acquisition surface: it allows high quality fingerprint acquisition. It can detect fake fingers. Like the other MorphoSmart sensors, the MSO 1350 is embedded with IDEMIA's last algorithms. They are strong and high performance devices.
This device can be use along with MorphoAccess biometric readers, as desktop enrolment station.
Why optical technology?
The optical technology increases acquisition of surface (resolution), ergonomics, robustness, fast processing time and performance (accuracy) compared to other technologies, such as capacitive or swipe technologies. For example, the resolution of sensors is limited due to the silicon chip cost in case of capacitive technology. Sensors that use swipe technology usually require several trials and are slower because they need image reconstruction.
The assets of the MSO 1350
Why do we recommend the MSO 1350 ?
It's a pocket sized USB device, very convenient, reliable, ergonomic and easy to use.
It's a 3-in-1 sensor: it can be used for enrolment, authentication and identification.
Thanks to its optical technology and IDEMIA's last algorithms, this sensor is strong and powerful.
The MorphoSmart 1350 is certified N°1 by the NIST, but also has several certifications : FIPS 201 et MINEX , FBI PIV IQS
Don't hesitate to read the brochure or to contact us for more information about our MorphoSmart 1350 (MSO 1350).
https://www.biotime-biometrics.com/wp-content/uploads/2020/12/MSO-1350.jpg
427
589
Biotime Biometrics
/wp-content/uploads/2023/01/Logo-BB-23.png
Biotime Biometrics
2020-12-16 12:06:13
2020-12-16 12:06:13
Product Zoom : our MorphoSmart 1350