Delivering frictionless access everywhere with the MorphoWave range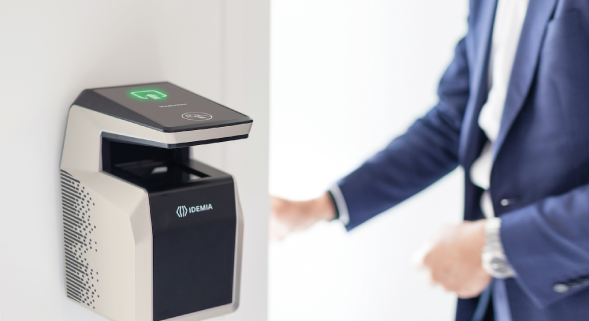 In 2022, biometric identification and verification have become an intrinsic part of the current technological environment, pervasive in ways that modern consumers are unaware of.
The majority of the population use biometric authentication at some point daily, especially in hospitals, banks and airports. To safeguard facilities, organisations want access control systems that are effective, quick, and easy.
A contactless fingerprint scanner is an optimal solution for high-volume workplaces. With these touchless fingerprint scanners by Idemia, organizations can achieve these security features.
What is MorphoWave?
MorphoWave™ is a technology consisting of two versions of touchless fingerprint scanners; XP and SP.
Both ranges contain plug-and-play compatibility with the majority of industry players and enable quicker and faster installations.
Additionally, both ranges are easy to maintain thus saving on maintenance costs. This contactless technology is available at Biotime Biometrics, the biggest distributor of Idemia products.
MorphoWave™ XP
This is an eXtended Performance biometrics scanner designed for the most advanced environments. It's capable of verifying 60 persons per minute, 100K user entries in 1:n mode.
This technology has several features that make it suitable for demanding environments. Take a quick look at these extraordinary features;
Capability for multi-factor authentication using built-in RFID and Bluetooth Low Energy readers
Reads various types of contactless cards, as well as smartphone credentials. Desfire, Mifare, iClass, and SEOS are just a few of the technologies available. The card may store biometric information.
HID Mobile access via Bluetooth Low Energy (BLE) or Near Field Communication (NFC)
MorphoWave™ SP
This is a Simplified Profile contactless scanner that supports up to 10k user entries and a simplified user interface through multicolour LED indications. This simplified profile consists of the following features;
Both sides have a vibrant hue and a trendy pattern.
LED indicators that provide key data about the equipment.
Support by major PACS systems, connection with door controller through OSDP secure method and integrated by top gate suppliers
Interested in the new MorphoWave? Contact us using our website form.
https://www.biotime-biometrics.com/wp-content/uploads/2022/02/Article-47.png
427
589
Biotime Biometrics
/wp-content/uploads/2023/01/Logo-BB-23.png
Biotime Biometrics
2022-02-04 05:49:54
2022-02-02 17:50:37
Delivering frictionless access everywhere with the MorphoWave range