French TV Channel TF1 talks about the IDEMIA MorphoWave ™ Compact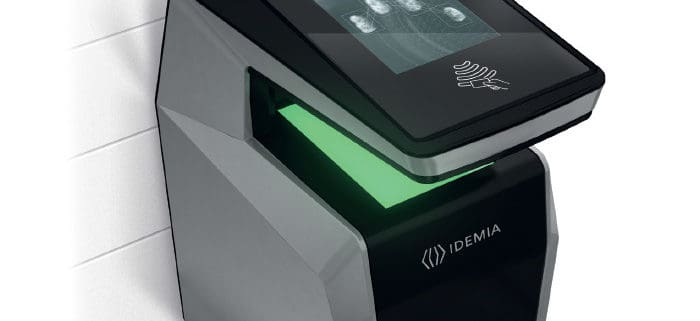 In the current context, the first aim of companies is to limit physical contact as much as possible. On Sunday May 17, 2020, the MorphoWave ™ Compact from French manufacturer IDEMIA was in the spotlight on French TV channel TF1. The report shows the contactless biometric solutions that business premises can adopt on a daily basis to comply with the hygiene rules recommended by the government.
We therefore see in this report the installation of contactless access control devices and in particular the use of the IDEMIA MorphoWave ™ Compact biometric reader.
Contactless and completely hygienic, the MorphoWave ™ Compact is ideally suited to the current situation.
How does the MorphoWave ™ Compact biometric & hygienic reader work?
Operating on the fly to provide hygienic and contactless access control, MorphoWave Compact is based on 3D fingerprint technology, patented by IDEMIA, and recognizes 4 moving fingers. This elegant and space-saving model guarantees secure and efficient access control.
Advantages of the MorphoWave Compact
The MorphoWave is a complete access control solution. A single wave of the hand allows you to identify yourself on the fly, thanks to its 3D scanning system that recognizes 4 fingers extremely precisely and quickly. This allows users to stay on the move during the identification process, which helps keep busy areas smooth.
It can be easily integrated into all kinds of environments. In addition, it has an IP65 protection rating, it can also be installed outdoors.
In short, the MorphoWave Compact is the solution adapted to this current context for hygienic and fluid access control thanks to its patented 3D technology.
More information about the MorphoWave Compact, contact us !
https://www.biotime-biometrics.com/wp-content/uploads/2018/04/MorphoWave-compact.jpg
700
700
Biotime Biometrics
/wp-content/uploads/2023/01/Logo-BB-23.png
Biotime Biometrics
2020-06-08 12:09:05
2020-06-08 12:19:22
French TV Channel TF1 talks about the IDEMIA MorphoWave ™ Compact