ID Screen: A powerful all-in-one multi-application biometric tablet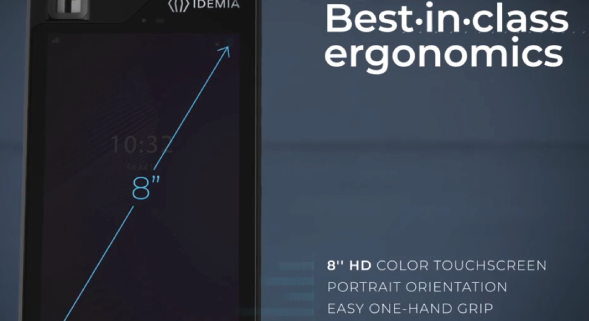 The third version of ID Screen is a multi-application biometrics device from the global industrial pioneer IDEMIA. Once more, allow us to introduce to you the robust biometric device. This updated design has better usability, more power, and a variety of connectivity features for every use case that a business or the government might encounter. Numerous uses are possible with the ID Screen biometric tablet, including:
Biometric identification of document holders

Processing done locally or remotely

Biometrics registration

Creation of a digital identity
A versatile and reliable biometric device and its distinctive features
This sophisticated tablet anticipates handling the majority of use scenarios you could encounter. It integrates document verification, the creation of digital ID, and thumbprint scanning. It differs because it might scan digital identification documents using contactless connectivity. 
Since the documentation cannot be duplicated or manipulated, ID Screen guarantees easy and secure assessments to conduct, ensuring that customers are whom they purport to be. It is excellent for security protocols where verifying users at entry points or during an election is important. Even in difficult circumstances, it might be utilized to identify clients or even patients.
The strong battery and Quad Core 2 GHz processor enable customers to use it effectively and for a long time. The mobile device also features an 8-inch touchscreen interface with vivid images and easy reading from any angle. 
You may use it for a prolonged period without becoming exhausted because it is simple to handle.
Why prefer IDEMIA?
With over four decades of biometrics authentication expertise and the global management of nearly four billion fingerprints, IDEMIA consistently performs at the highest level in international independent research, making it the undeniable market leader in authentication systems.
The enterprise is a trusted partner for most esteemed companies thanks to its algorithm and sensor technologies as well as its competence in developing and manufacturing finished goods. Do you have any enthusiasm for this brand-new biometric tablet?
 Please don't hesitate to reach us should you need further details.
https://www.biotime-biometrics.com/wp-content/uploads/2022/07/Article-59.png
427
589
Biotime Biometrics
/wp-content/uploads/2023/01/Logo-BB-23.png
Biotime Biometrics
2022-08-16 07:22:19
2022-07-26 17:22:48
ID Screen: A powerful all-in-one multi-application biometric tablet