Sigma Lite: Slim and powerful fingerprint access terminals…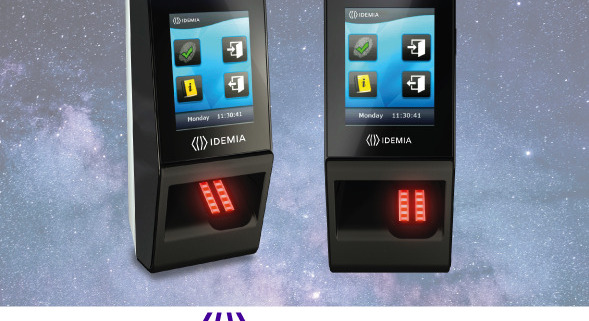 Sigma Lite is the ultimate biometric reader for businesses and institutions engineered by IDEMIA. This series is a range of slim and powerful fingerprint access terminals for access control and time attendance, designed in multiple versions. With the integration of the latest IDEMIA sensors, the MorphoAccess Sigma Lite can detect a fake finger. Its other fast identification assets include the weather-resistant IP65 and vandal-resistant IK08. The biometrics readers are designed for narrow mounting surfaces. These products have anti-fraud features, high capacity, a tough design, and flexibility, and are embedded with a web server, and are usable on any device or web browser.
Sigma Lite Distinctive
Features
●
The flexible biometric reader enables users to define their environment and customize the features and settings based on the user/applicant's preferences.
●
It
has an easy-to-control touchscreen with intuitive functionality.
●
It has a higher processing speed of over 100,000 verifications per second.
●
The system has securely embedded web servers based on the current HTML5 technology and an in-built browser for acce
ssing online and offline functions.
●
The installation a
nd maintenance of the
biometric
readers
are easy and convenient.
IDEMIA Products
IDEMIA a comprehensive range of advanced fingerprint access control devices to secure buildings and premises and avail time and attendance data for Human Resources (HR) purposes. The biometric scanners offer accurate, cost-effective, and reliable access control, time and attendance solutions. The whole range includes:
SIGMA
Lite
It is a slim and powerful touch fingerprint device to equip door frames, mullions, server rack doors, or turnstiles. It guides users with a LED indicator.
SIGMA
Lite
+
This device is engineered with the same attention to detail and performance as the Lite with in addition a 2.8″ touchscreen for easier configuration and IN & OUT function keys.
SIGMA Wide
It is the most flexible fingerprint biometric scanner with a 5″ touchscreen. It is ideal for standalone use as all can be done from the reader itself.
SIGMA Extreme
This touch fingerprint device is designed for harsh environments and adverse weather conditions. It provides IK09 protection for outdoor installation in labor-intensive sites and extreme use cases.
Interested in the MorphoAccess Sigma Lite? Ask for your free and personalized quote. We'll respond as soon as possible!
https://www.biotime-biometrics.com/wp-content/uploads/2022/12/Article-67.jpg
427
589
Biotime Biometrics
/wp-content/uploads/2023/01/Logo-BB-23.png
Biotime Biometrics
2022-12-12 06:28:31
2022-12-05 16:40:46
Sigma Lite: Slim and powerful fingerprint access terminals…